The Club A10

Monthly News November
Chief Instructor Tim Evans picked up another award when he was nominated and won
The South Wales Police Volunteer of the Year 2009.
He was presented the award at the club by representative of the South Wales Police in November.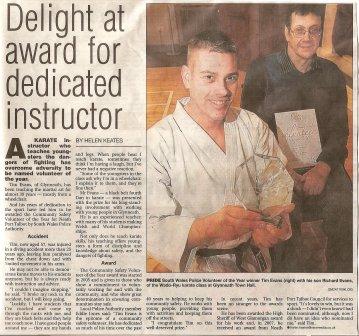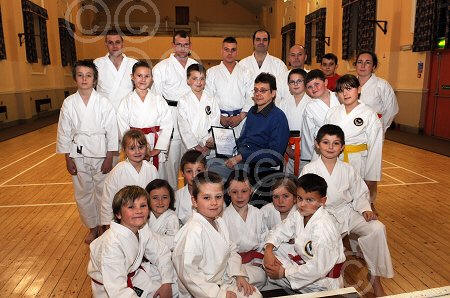 Glynneath Karate Club Has Been In Existence Since 1971. It Is One of The Longest Running Clubs In Wales And Is Joint Founder of The Welsh Karate Association. The Club Is Run To-Day by Instructor, Sensei Tim Evans 4th Dan Black Belt. Who Has Been There Since The Club Began.

Sensei Tim Evans Who Has Trained Under The Guidance Of The Top Japanese and British Instructors, Had To Travel To Birmingham and London In The Seventies, Where These Instructors Were Based To Gain His Tuition and Grading, This Has Given Him The Experience To Teach The Martial Arts To a High Standard. He is also a Qualified Level 2 Coach.

(Japanese Instructors. Tatsuo Suzuki, Peter Suzuki, K Sakagami, T Meada and many more.
British Instructors. Unel Wellington, Pat Carrol, Richie Noblett, Peter Spanton, Vic Charles the List goes on.

Sensei Evans, Who Still Runs The Club (Since His Accident), Has Coached Many Students Over The Years Through Their Various Grades Right Through To Black Belt, These Black Belts Now Assist With The Tuition of the Junior and Senior Students. Assistant Instructors. Dave Porter 2nd Dan, David Jones 2nd Dan, Gwyn Everett 2nd Dan, Jay Smith 1st Dan

He Is Also on The Technical Committee and was Licence Officer of The Welsh Karate Association.
He Has Also Received Awards From The High Sheriff of West Glamorgan, Neath Port Talbot Sports Council, South Wales Police and Glynneath Town Council For His Contribution To Karate and the Community Over The Many Years.

The Affairs Of The Club Are Conducted By An Executive Body Within The Clubs Constitution
Guidelines And All Positions Are Filled By Volunteers Who Give Their Time Freely.

Technical Matters Concerning The Club Are Governed By a Technical Committee Made Up
From The Dan Grades.

Funding of The Club Is Generated From Nightly Fees And From The Sale of Karate Equipment,
This Money Is Used To Pay For The Hall And To Send Junior and Senior Students To As
Many Competitions As Possible. No Instructor or Official is Paid by This Club.

We Have Thirty Eight Years Experience With The Chief Instructor and Several Instructors
With Over Twenty Years Experience each, Instructors Have Coaching Qualifications From the
Welsh Governing Body For Karate.

The Coaches are also aware of the Guide Lines concerning the Training of Children
that has been announced by the Sports Governing Body.

Club Instructors
David Jones 2nd Dan, Gwyn Everett 2nd Dan.
Also 1st Dan Ju Jitsu (with Instructor Billy Doakes 7th Dan)

Unlike Some Karateka These Students Have Waited (by choice) Many Years (12) Before Going for 2nd Dan.
David Jones, Gwyn Everett, Dave Porter all passed their 2nd Dan in front of a WKA Grading Panel

A little bit of history was made in May 2007 by these students of Glynneath Karate Club,
Because No Other Student of the club has achieved this Grade (apart from the Instructor)
The club has had many Black Belts but none have gone on to gain further achievement.

Tim Evans was recently awarded 4th Dan by the Welsh Karate Association in recognition to his dedication to the sport for over thirty six years.

He also received an "Service to Sport" award from the Neath Port Talbot District Sports Council for his contribution to Karate.

(Dave Porter 2nd Dan Has left to open own club, We wish him good luck)

2nd Dan Grading May 07

The Wait


The Beginning

It's Over - Success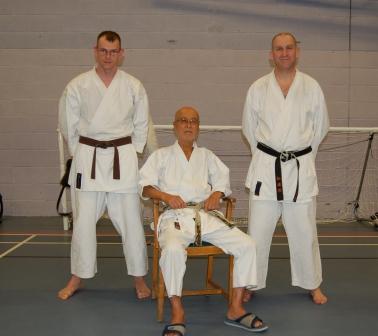 Jay & Dave with Tatsuo Suzuki Hanshi - Summer Course August 07


Chief Instructor. Tim Evans 4th Dan (Before Accident)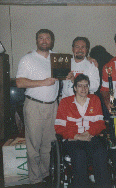 Tim Receiving Award from the High Sheriff of West Glamorgan Interviewed By Ray Gravell, Roy Noble for Radio Wales
for service to the community for teaching Karate before and after his Accident
(PS. - Tim is Still Teaching Karate)

K SAKAGAMI 8th Dan, M HASHIARA 8th Dan,
M. MAEDA 7th Dan, Unel WELLINGTON 6th Dan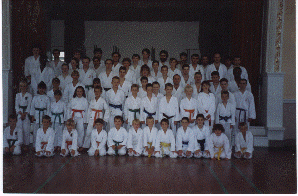 Students of Glynneath Karate
(Most Of These Students Have Left)
(To Be Updated)

Dojo Etiquette (Hall Rules)
Students Shall Make Every Effort to Attend Classes on Time,
They Should Train Regular to Attain a High Degree of Knowledge.

On Entering or Leaving the Dojo, All Karateka Must Bow, This Shows Respect and Good Manners,
You Also, Never Walk on Any Training or Contest Area When Wearing Shoes.

Any Student Wishing to Leave the Dojo or Lesson for Any Reason, Should Ask
the Senior Instructor for Permission, the Student Does Not Just Drop Out or Walk Off.

Any Student Who Arrives After Training Has Commenced, or Leaves Before Training Has Finished,
Shall Do a Full Kneeling Bow at the Edge of the Dojo.

Rings, Earrings or Any Other Jewellery Must Be Removed Before Training Has Began,
In Case of Injury to Themselves or Another Student.

Smoking, Swearing and Chewing in the Dojo is Strictly Forbidden At All Times.

Students Should Keep Their Gi's Clean and Well Pressed.
Full Gi's to Be Worn At All Times During Training.

No Unnecessary Talking or Running About is Permitted During Training.

When Demonstrating For, or Upon Receiving Instruction From the Instructor,
Students Shall Acknowledge with a Standing Bow and Say "Hai".

All Commands Must Be Carried Out Quickly.

When Training with A Partner, Self Discipline, Mutual Trust and Respect for One's Partner,
Are Essential to Self Practice.

The Highest Dan Grade in the Dojo Shall Be Called SENSEI. The Assistant Black Belts
are Called SEMPAI. The Class Should Be Opened and Closed to Highest Grade Present.

Do Not Be Afraid to Ask Questions of Your Instructor or Senior Grade

Students Must Not Misuse Their Karate Knowledge to Show Off.
Etiquette Is A Code Of Conduct Essential To The Proper Practice of
The Martial Arts Without It, Their Meaning Becomes Meaningless.

Home Page Grading Syllabus Kata Links Terminology
Where We Are WKA Events Tatsuo Suzuki H Ohtsuka Junior Section